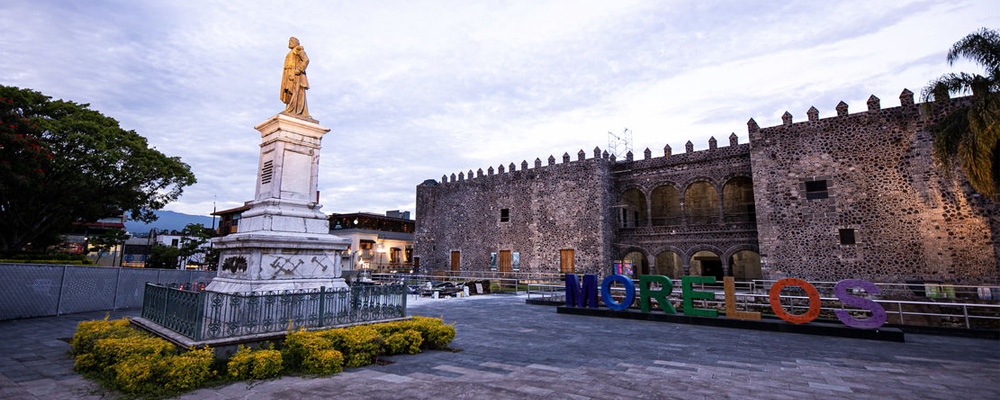 In addition to its excellent climate, it offers tourists a balanced set of architectural, cultural, ecological and culinary attractions that make for an unforgettable stay in the capital of the Mexican state of Morelos. In this article you will learn about the main must-see places you should visit. It is the favorite destination of many city dwellers seeking tranquility, due to its proximity to Mexico City and its landscapes endowed with colors, flavors and aromas, in relation to its flora, fauna, gastronomy and colonial style architecture. Read on and fall in love with Cuernavaca.
Tourist attractions in Cuernavaca
Zoofari
It is located between the cities of Cuernavaca and Taxco. It is one of the main parks where you can feed the animals in Cuernavaca and among its best attractions you can see Shanti, an elephant on which you can ride to take a picture, and Domingo, a huge giraffe that you can ride. In addition, you can observe pelicans, ducks, turtles, spider monkeys and about 130 different species. Also, you can't miss lunch at the famous "Timbuktu" restaurant. On your tour through the 6 sections, you will be able to admire close to each species and feed many of them, it's an incredible experience, venture and jump off the zip line and admire life in nature. If you want to appreciate another face of nature.
Location: Carretera Federal, Cuernavaca – Taxco Km. 55, 62652 Teacalco, Gro.
Lagunas de Zempoala
It is one of the best tourist places in Mexico preferred by visitors, because they are one of the places to swim in Cuernavaca that gave you a great spectacle of Mother Nature. They are located 1 hour from Mexico City. Formed by the lagoons of: Compila, Tonatihua, Seca, Prieta, Ocoyotongo, Quila and Hueyapan, this park is located in the Sierra of the same name, 50 km from Mexico City. Its high altitude determines that the climate is temperate during the day and cold at night. For those who like hiking there are numerous trails with reeds covered with mushrooms and aromatic herbs, under huge oaks, pines and oyameles.It has camping area, parking, sale of Mexican snacks, horseback riding, boat ride and sale of handicrafts of the region.
Location: Access to Lagunas de Zempoala National Park if you come by the free highway 95 Mexico-Cuernavaca, turning off to the town of Huitzilac entering by Tres Marias, taking the road Huitzilac-Santa Martha.
Jardín Borda
It is a charming place, full of historical and cultural content. It is also one of the tourist attractions of Morelos and you can find it in the center of Cuernavaca. You will find two swimming pools, terraces at different levels, stairways, fountains, ramps and French-style water games. Among its abundant vegetation you will find different species of trees native to the Mesoamerican
trees, shrubs and grasses; creepers, erect, creeping, crawling, and cactus, which are part of a botanical collection of the eighteenth century, which makes the garden is full of color. Today the Jardín Borda is part of the Institute of Culture of Morelos and organizes cultural events, exhibitions, theatrical and dance performances and concerts.
Location: Av. Morelos 271, Cuernavaca Centro, Centro, 62000 Cuernavaca, Mor.
Lago de Tequesquitengo
Just 30 minutes from Cuernavaca you will find this beautiful lake that has become a great destination for water sports lovers. This beautiful lake is the best option for fun, as you can sunbathe and practice outdoor activities. It is located near the capital of the country. Lago de Tequesquitengo is one of the places to swim in Cuernavaca, because despite its peculiar aroma and color, its waters are very safe and provide great privacy. You can practice sports such as wakeboarding, wakesurfing, skydiving and diving, the latter being of great interest to many, because underwater you can see the submerged church of San Juan Bautista Tequesquitengo.
Location: 39 km south of the city of Cuernavaca. Jojutla, Morelos.
Cerro del Tepozteco
Cerro del Tepozteco is a magical place full of stories, one of the things to love about Mexican culture. It is one of the destinations near Cuernavaca, located in the town of Tepoztlán. The Tepozteco is one of the usual weekend excursions for the inhabitants of Mexico, however, to reach this area you must climb the mountain and get to the top it is surprising to see how people of all ages and conditions are encouraged to climb, sometimes unconsciously as the climb is demanding. According to data, the ruins at the top belonged to the Aztecs. In them, they used to worship the Mexican warrior gods, because in them you can even see bows and arrows, which is why there are many legends and stories related to these ruins.
Location: Carretera Federal Libre, Cuernavaca – Tepoztlan, 62520 Tepoztlán, Morelos
Cuernavaca Cathedral
The Cathedral of Cuernavaca is located in the historic center and is one of the oldest buildings in Mexico, and certainly can not miss among your destinations because it is one of the main tourist attractions of Cuernavaca. The construction is preserved intact since the sixteenth century. The atrium has always constituted the central part of the complex, in whose angles it is possible that in the beginning there were chapels, today replaced by buildings. At the foot of the tower a clock was installed, built by a Franciscan priest, that you cannot miss during your visit.
Location: Miguel Hidalgo 17, Cuernavaca Centro, Centro, 62000 Cuernavaca, Morelos.
Teopanzolco
You will find it located in the Vista Hermosa neighborhood and it is one of the archeological sites in Cuernavaca. Teopanzolco is a word of Aztec origin, and its meaning is "old temple". This archaeological zone is very visited by tourists and is ideal for excursions in Cuernavaca, since its antiquity dates back to the XVI century. In this pre-Hispanic era, Teopanzolco was the main political and religious center of the Tlahuicas, who were one of the five most important peoples of the time. Among the services offered by this interesting place, you will find restrooms, rest areas, guided tours and educational talks, which narrate the history hidden behind the ruins of the temples of this ancient tribe.
Location: It is located on Río Balsas sn street, colonia Vista Hermosa, in the city of Cuernavaca. The area can be reached by public transportation.
Museo Robert Brady
If you are an art fan you must visit this museum, where you will find a collection worth admiring. It is located in Cuernavaca, next to the cathedral and is one of the tourist sites in Morelos located in the historic center. Robert Brady was born in Iowa in 1928, and his life was characterized by his passion for art. He traveled around Europe, where he met famous painters such as Rufino Tamayo and Frida Khalo. The Museum focuses on the dissemination of the personal collection of about 1,300 works of art that Robert Brady acquired throughout his life. The "Tower House" has colorful rooms, sculptures and tropical vegetation in the courtyard and gardens, as well as masterpieces by Frida Kahlo, Miguel Covarrubias, Maurice Prendergast,
Location: Netzahualcóyotl 4, Cuernavaca Centro, Centro, 62000 Cuernavaca, Morelos.
Jardines de Mexico
Jardines de Mexico is located 130 kilometers from downtown Mexico City and will take you just over 1 hour on the highway from the first toll booth at the Cuernavaca exit. It is the largest floral garden park in the world. In a space of 51 hectares of which 37 are for contemplation. You will find 7 thematic gardens that represent different ecosystems and are set and decorated with a different theme. Each of the spaces has different collections of plants and additional structures such as sculptures, constructions, fountains or bridges. It is also open all year round.
Location: Mexico – Acapulco Highway Km 129, Jojutla, Morelos, Mexico. 10) Ocotepec
Pueblo de Ocotepec
It is a town near Cuernavaca and its name means "the hill of the ocotes". It is ideal for a walk and learn about indigenous traditions, as it is one of the tourist sites in Morelos that still maintain them, despite modernity. A great place to share a beautiful postcard with the family.
Location: To get to the Pueblo de Ocotepec you must stop at Tepozteco, it is because in Mexico City you must take the subway at Pino Suarez station to La Tasqueña, the ride takes 17 minutes.
Tepoztlán
We don't know if it is its mystical and bohemian atmosphere or its impressive views of steep and green hills that make Tepoztlán, Morelos, a perfect destination for a weekend getaway with friends or as a couple. This Magical Town is located in the foothills of Parque Nacional El Tepozteco, whose main hill is full of mysticism, as its inhabitants claim that it is flown over by UFOs, so keep your eye on the sky. However, at its summit it shelters one of the jewels of the Mexica culture: a shrine dedicated to the warrior gods, from which you can admire the entire valley. Although it enjoys an excellent climate throughout the year, if you are planning a vacation in this incredible destination the best time to do it is during the spring and summer season.
Location: Tepoztlán is located 40 minutes from the city of Cuernavaca, in Morelos.