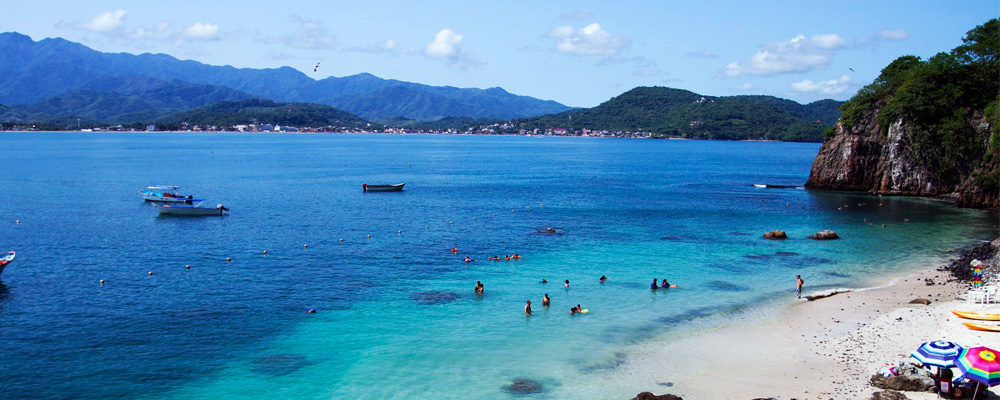 Small but beautiful beaches and lovely islets are concealed in Rincón de Guayabitos, Nayarit, a stunning natural secret. It is the ideal location for diving and bathing!
Amazing Nayarit gem Rincón de Guayabitos
Playa Rincón de Guayabitos, one of the 23 micro-destinations in the Riviera Nayarit, is without a question one of the most shocking secrets in the state of Nayarit. The Jaltemba Bay contains this natural marvel, which is about two kilometers long and 30 meters wide.
Others point out that, despite being regarded as the biggest natural pool in the world, a destination in the Dominican Republic currently holds the title. (on the way to Isla Saona).
Despite this, if there is anything we can say about it, it does have a distinct paradisiacal charm, regardless of whether it is the biggest. You can find vibrant islets and stunning beaches with calm seas here. Due to this tranquility, swimming and scuba diving are must-do activities.
And it is that the presence of coral structures and colorful fish create an underwater scene that shocks the senses. Additionally, there are cozy bungalow-style hotels nearby, ideal for a delectable and well-earned rest.
What to do in Guayabitos and what are its tourist attractions?
If you enjoy recreational fishing and are wondering what to do in Rincón Guayabitos, you can do it here. You can catch bonito, sailfish, dorado, snapper, skipjack, and marlin among other fish. The town of La Peita de Jaltemba is also accessible.
Practice is another activity you can engage in while in Guayabitos.
snorkel
rowing
rafting
sailboat
landscape photography
take a sightseeing tour
Or you could just relax, appreciate the breeze on the shore, and let the warm waters caress you.
Of course, don't take endangered animals during your trip! not even for the photo! (this includes starfish, corals, or any other unauthorized species). If you're fortunate, you might get to see whales or dolphins.
Where is Guayabitos located?
The distance between the Nayarit state's Guayabitos shoreline and Puerto Vallarta's airport is about an hour. You only need to travel Tepic-Puerto Vallarta Highway 200 to get there.