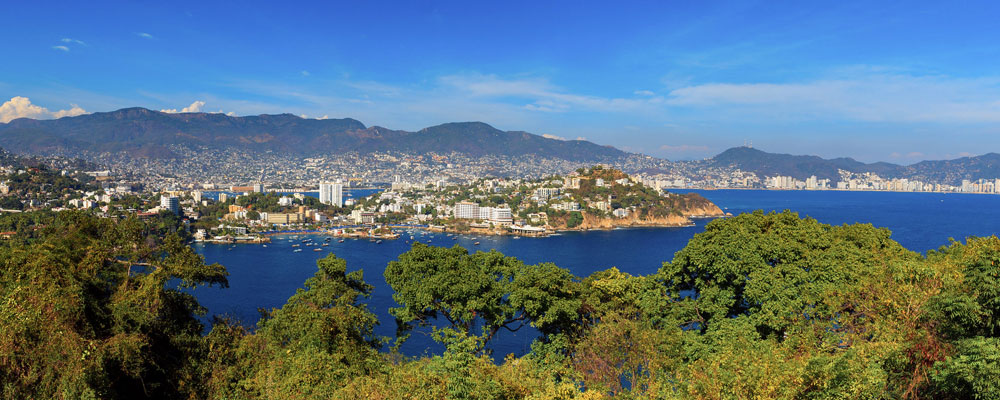 From murals and historical monuments to reserves of local fauna and temazcales of healing mud. This crossing will take you to know the cultural offer of this emblematic port.
It is not new that the port of Acapulco is one of the most visited destinations (throughout the year) by tourists from around the world. Its tropical climate, dreamlike landscapes, paradisiacal beaches and delicious cuisine have positioned it as the perfect oasis of relaxation and fun.
But this beautiful city has much more to offer. Its cultural corridor offers attractions and activities that, both Travelers seeking escape and rest, and those who prefer exploration and adventure, will enjoy the most and will make them experience Acapulco as they never did before.
These are the unmissable points of the other side of Acapulco:
1. Pie de la Cuesta
Located 10 km northwest of Acapulco is Pie de la Cuesta. The option for travelers looking for a quieter vacation enjoying the open sea. Also, with a little luck, you can see whales and dolphins. Enjoy the tranquility and the spectacular sunsets.
2. The world's largest tyrolean traverse
The new attraction of Acapulco is called 'Xtasea'. It is a great experience for the adventurous at heart and is listed as the world's largest tyrolean traverse over the sea. A true adrenaline rush that runs 1.8 kilometers, at a speed of 120 Km/Hour and at a height of 100 meters. But don't worry, the view of the beautiful bay of Puerto Marques is worth it.
3. Capilla Ecuménica de la Paz
The architecture of the sacred temples is one of the most visited sites by tourists (regardless of their religion) anywhere in the world. Its beauty and history are undoubtedly qualities that impose, move and are hardly forgotten. The chapel of La Paz, located in a high area that surrounds Acapulco Bay, is impossible to leave behind in this cultural tour. Its immense white cross 42 meters high can be seen from anywhere in the city of Acapulco. Visit it and enjoy the impressive scenery while you relax and find yourself. By the way, ecumenical means that all people can visit it regardless of their religious beliefs.
4. Sessions of mineral mud
In Barra de Coyuca you will find a 'spa' very particular, without walls, without luxuries, but very natural and healthy. Dare to try an exfoliating session of mineral mud, an excellent remedy to clean the skin. You can also enjoy a privileged view of the beautiful area of Acapulco.
5. Ecotourism releasing turtles
An anecdote that you will surely tell forever will be the experience of watch a sea turtle born and helping it reach the sea. In the area of 'Barra Vieja' you will find a turtle camp that is responsible for raising, protecting and releasing baby turtles to preserve the Golfina, Prieta and Laúd species. The last is the largest and which sadly was in danger of extinction … today is in a vulnerable state.