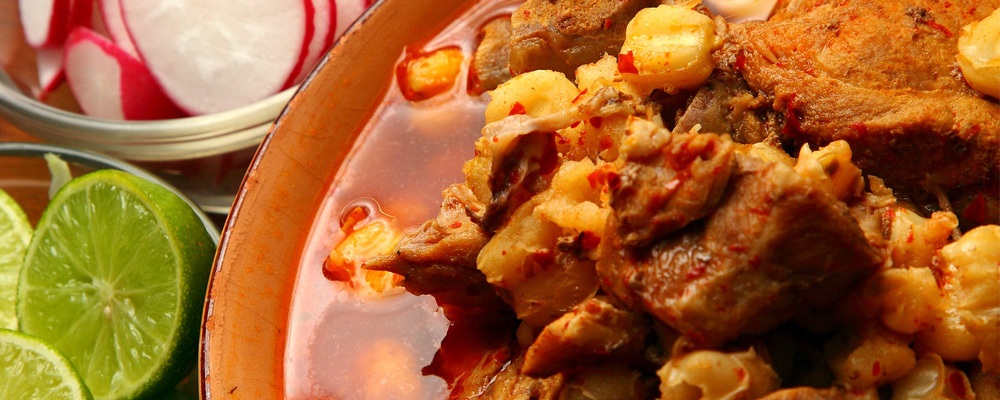 A classic of Mexican cuisine, delicious authentic red pozole you will love.
Ingredients:
1 clove garlic
1 pinch of cumin
1/4 teaspoon dried oregano
4 oz of dried guajillo chiles
1 piece of tomato
1 lb of pork feet
1 lb of pig's head
1 lb of pork spine
1 lb of pork loin
1 lb of pork rib
salt to taste
1 piece of garlic
32 oz of precooked white hominy / pozole corn
Preparation:
Place the corn in a large pot, cover with water, add the garlic and salt to taste, and cook over medium heat for 2 hours.
Put the meat to cook with garlic and salt.
After the meat is cooked, shred it a bit and add the meat to the pot with the corn and the broth where the meat was cooked, add it too and integrate everything well.
Meanwhile, boil the tomato until it has softened. Soak the guajillo chiles in hot water until they are soft, remove the seeds and the tail and grind them in a blender together with the tomato, salt, oregano, cumin and 1 clove of garlic.
Strain the sauce with a colander.
Pour the red sauce into the pot with the corn and let it come to a boil.
Rectify the seasoning and let it boil a few more minutes before serving.
It can be served in clay dishes and aside, place chopped lettuce, chopped onion, chopped radish, and sliced lemon so that everyone can serve themselves to their liking. Accompany with corn toast with cream and grated cheese.